Close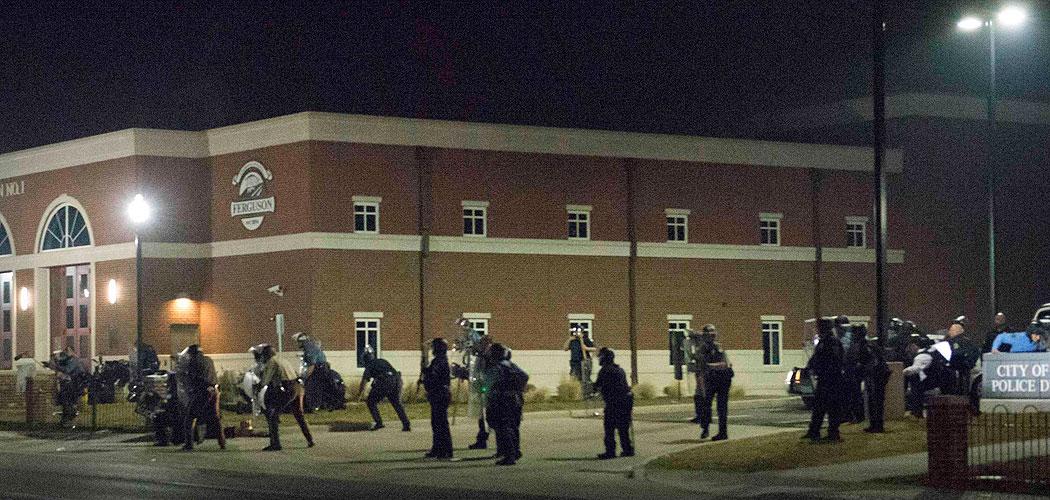 Officers swarmed a home in Ferguson Thursday morning in a search for those responsible for the shooting of two police officers outside the Ferguson police department about midnight.
The two officers shot early Thursday are expected to survive, St. Louis County Police Chief Jon Belmar said. They were treated at Barnes-Jewish Hospital and released Thursday, though one still had a bullet lodged behind his ear.
Meanwhile Obama said violence against police officers is not warranted and doesn't help matters any and Holder called the people that shot the officers "punks."I find this ludicrous coming from two people who have been fermenting race baiting and division these past six years. First with Obama and the Cambridge police saying they acted  stupidly then with Trevon Martin saying if he had a son he would look like Treyvon then both of them  commenting on Michael Brown, who was truly a punk of the first order, like he was some innocent victim and hero.
No administration has been so  divisive as this one. They pit men against women, white against black, old against young, rich against poor. There has been a lot of chatter going around that Obama will go for a third term and declare martial law. After all who is going to stop him? The wimpy republicans surly aren't if the way they've been acting so far is any indication.
I believe Obama and Holder are doing their best to foment Civil War along racial lines, so they can declare martial law and Obama can become the American dictator he so wants to be. Whether they will or not remains to be seen.
Recently, the Internet and talk radio have been buzzing about an Executive Order quietly signed by President Obama that allegedly authorizes the Department of Homeland Security to get ready to shut down all domestic communication in case of a declared national emergency. Let me repeat: All domestic communication, which includes "New Generation Systems" – a.k.a. the Internet – within the United States.
Just exactly what qualifies as a "national emergency" is not clearly defined. But something tells me we'll soon find out.
White House Executive Order 13618, signed July 6, 2012, and titled "Assignment of National Security and Emergency Preparedness Communications Functions," could be used to prevent communication between U.S. citizens, allege some concerned, thus allowing the president to eliminate any and all opposition to his plans. You decide. The complete EO can be read here.
 There may not even be a 2016 president election, according to one man who is a likely contender.
Presidential candidate Ben Carson has weighed in on the subject with an interview with Chris Wallace.
"I hope that that is not going to be the case. But certainly there is the potential," said Dr. Ben Carson, who was director of pediatric neurosurgery at Johns Hopkins Hospital and became famous for his groundbreaking work in separating conjoined twins. He is now firmly established as a superstar among conservatives across America.
 "Do you really believe that?" Wallace asked.
It is possible, said Carson, "because  you have to recognize we have a rapidly increasing national debt, a very unstable financial foundation, and you have all of these things going on, like the ISIS crisis, that could very rapidly change things that are going on in our nation. And unless we begin to deal with these things in a comprehensive way and a logical way, there's no telling what could happen in just a matter of a couple of years, and particularly in a situation where we have a Senate and a Senate leader who has over 300 bills sitting on his desk, [who] will not bring them to the floor for a vote."
  Police Chief Thomas Jackson resigned Wednesday, saying he always wanted to do what's best for his community and realized that now meant leaving it.
The chief is the sixth Ferguson employee to go since a scathing federal Department of Justice report last week accused the city of racist police and court practices it said were focused on generating revenue, not justice.
Knowles said Wednesday that municipal court judge Ronald J. Brockmeyer, police Capt. Rick Henke and Sgt. William Mudd, who all resigned, and municipal court clerk Mary Ann Twitty, who was fired, did not receive severance packages. City Manager John Shaw received a year's pay, $120,000, plus insurance.
Last night on Sean Hannity's show  the reporters were interviewing some of the protestors outside the Ferguson police station where they were gathered. Some said the cops that got shot got what they deserved and others said this situation hurt their cause. Still others weren't even aware of the Justice Dept. findings that  showed  the police officer Darrel Wilson acted accordingly and that the "Hands up Don't Shoot "was a proven false narrative. They didn't want to hear it even as Sean pointed it out to them from the report. They were too busy being riled up by the rebel rousers in the crowd and the likes of racially biased statements from the likes of Obama, Holder and Sharpton.
Here are just a few comments showing how people feel today:
"The officers should sue Michael Brown's "parents", Holder and The Obamanation and any other black group/spokesman who went there for stoking the racial fires in Ferguson. They are all black, anti-law racists. They are directly responsible. Holder's "report" was just a bone to the black racists since he couldn't legally charge Officer Wilson with a crime.
This garbage needs to stop. We must fight evil with extreme prejudice."
"Obama, Holder, Al Not-So-Sharpton and all their race-baiting media friends should be proud of relentlessly pushing the FALSE narrative of "hands up–don't shoot" and releasing that incendiary report full of assumptions and half truths "proving" how racist the Ferguson police are, until the homeys they've got all fired up started shooting police officers."
"It's a sad day when the Dept. of Justice contributes to violence aimed at those charged with enforcing the law. But when you have a LAWLESS racist heading the Justice Dept. and an equally lawless racist sitting in the White House, that is what you can expect."
YES SOMETHING IS INDEED UNEASY IN THE AIR!!!!
Ferguson police chief resigns » News — GOPUSA
Obama preparing for citizen uprising?
Ben Carson: 2016 election may not happen
State, county take over security…
 Holder: Ferguson shooter 'disgusting,' 'punk'